Exp. Date & Lot Inspection - OCR
| | |
| --- | --- |
| Customer: | |
| Industry: | Halva Packaging |
| Application: | Date & LOT Number Recognition & Verification (OCV) |
The purpose of this application is to read and confirm the characters of the expiration date and the LOT number as well as check for dull imperfections in the print area.
The Cognex In-Sight 5000 Optical Control Camera was used for the application and was based on the Inocon Aluminum Link line. The result was 100% control of production without the slightest intervention by the operator except for the change from product to product.
Printing is done at an earlier stage of production from an inkjet printer. Inkjet printers are very likely to spray around the print area when spraying. For this reason, the camera checks around the print area and for such errors. Every day for each product that passes through the line, the operator selects the corresponding stored program for the product, enters the expiration date that the camera must read and activates the check.
Below are some photos of the installation as well as the industrial computer used in the system through which the camera image is displayed and the operator is configured to control.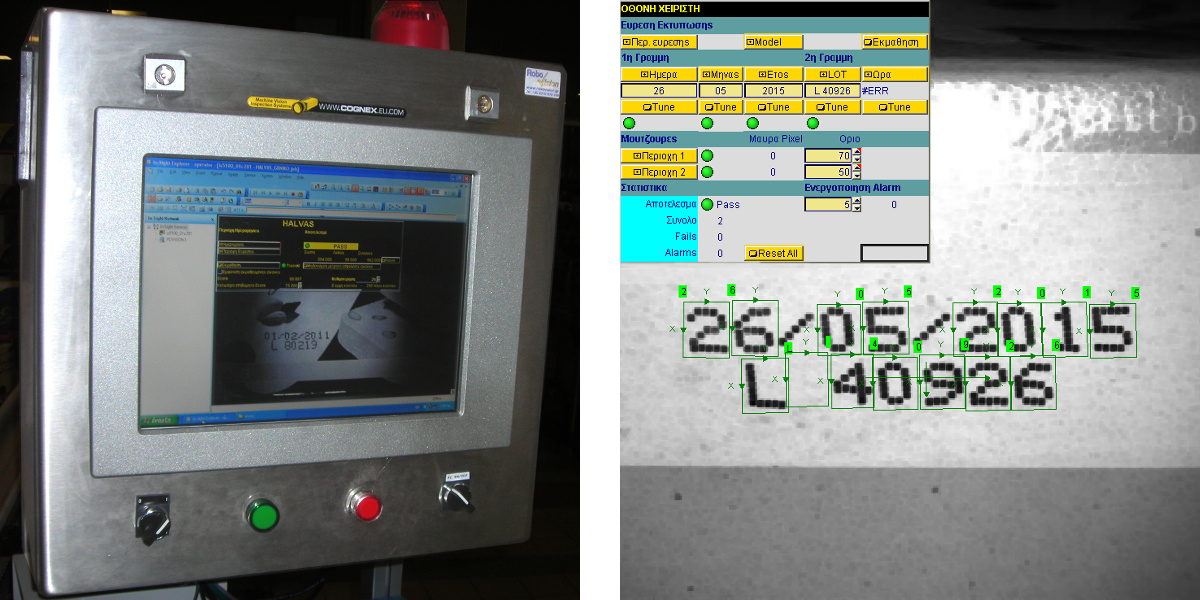 The error (the wrong package code) is in any case handled in any way the customer wishes. Either by automatic discharging from the line, by an audible / bright alarm or by stopping the engine. In this case, you actuate a valve which releases a high pressure air through a nozzle which repels the defective packaging from the production line.